Dubrovnik Winter Festival
New Years Eve 2019 in Dubrovnik - Stradun is the main star of the Spectacle
The city of festivals and festive events - will combine fun, culture, enjoyment, gastronomy and art on the most attractive stages in the City and its surrounding areas.



Dubrovnik is a very popular destination all the year round. If you wish to avoid summer crowds, find accomodation at the more convenient price, take pleasure in wellness facilities, traditional festivals and romantic weekends for two, winter is the right time to visit Dubrovnik!
Dubrovnik is a city for all seasons. Each season has its distinctive charm. From the warm summer days when tourists flock to the city to the mild and calm winter months when a peace falls over Dubrovnik...
On any given day, no matter what the weather is like, there are numerous opportunities to explore and enjoy Dubrovnik through the winter. Be inspired by the breathtaking architecture of the historic city, lose yourself in the quaint side streets, spend some time in one of the many art galleries and museums, relax in a café or indulge yourself in a restaurant. Take life at your own pace with the time and space to really get to know Dubrovnik.
During the autumn and winter periods Dubrovnik has direct air connections with the European cities Rome, Frankfurt, Paris and London.
Take advantage of a winter special weekend program organised to showcase the best the city has to offer. Taste fine local wines in a vineyard, enjoy a concert by the Dubrovnik symphony orchestra, learn the rich history with a guided tour, try your hand at harvesting oysters, let your hair down with the lively nightlife and experience traditional Dubrovnik cuisine. Forget the stresses and strains of your modern day routine and enjoy the simple things in life the sea, sun and fresh air in the unforgettable Dubrovnik.

Dubrovnik: truly a city for all seasons.
At the time of the December holidays the Unesco World Heritage City of Dubrovnik will shine with magical decorations and sparkle with fairy lights, creating the atmosphere of a fairy-tale renaissance city. Taste sour orange marmalade pancakes, kontonjata (quince cheese) and arancini (candied orange peel) along with a glass of brandy that will keep you warm, in the same way the traditional Dubrovnik carols on
Christmas Eve have warmed our hearts for centuries. The Dubrovnik Carol is a special custom. Singing "from door to door" groups of people wish Merry Christmas, see the old year out and welcome the new one. Like major metropolises, Dubrovnik organizes an open-air New Year's Party with entertainment and live music on one of the world's most beautiful stages in the open air located by the City bell-tower. Cascade of firework lights begins to fall down at midnight.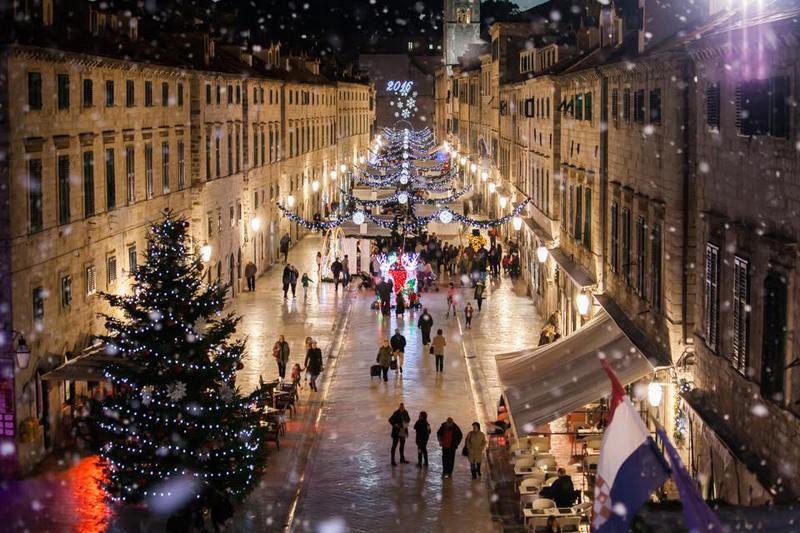 Dubrovnik is a festival town and this winter it will transform into a magical winter wonderland adorned with thousands of lights, filled with holiday spirit and humour, song and joy. The City of Dubrovnik and the Dubrovnik Winter Festival, together with the Dubrovnik Tourist Board, cultural institutions and public companies, have prepared a varied cultural, entertainment, gastronomy and music program for all ages and all types of visitors. Can't wait